Invincible America Assembly Nears Goal of 2,500 Participants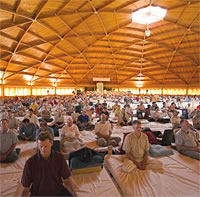 The Invincible America Assembly
The Invincible America Assembly in Iowa, founded to create coherence in national consciousness, now includes almost 2,000 peace-creating experts and is rising quickly toward its target of 2,500.
Dr. Hagelin and the Institute staff continue to work every day to promote and uphold the Assembly, which is America's first-ever scientific demonstration project to document the long-term positive effects of large group meditations on national trends. Dr. Hagelin has frequently commented that the profound coherence generated in national consciousness by the Assembly is the foundation for all the successes the Institute currently enjoys in bringing Maharishi's programs to the public.
Since the Invincible America Assembly began in July 2006 with 1,200 participants, scientific research has repeatedly confirmed the striking long-term positive effects of this large coherence-creating group on national trends. Media coverage of these research findings, including very positive reports by Reuters and the American Association for the Advancement of Science, has now reached hundreds of newspapers and journals around the world.
Currently, almost 2,000 Assembly participants practice the TM and advanced TM-Sidhi program together every day in Fairfield, Iowa, creating a powerful influence of coherence throughout the nation. As this number rises to 2,500—enough, according to research, to produce a phase transition to a permanently peaceful, prosperous, and harmonious society—we expect to see a measurable shift in national trends that will quickly resolve any remaining imbalances in the country and permanently establish the nation on a high level of invincibility.