Global Union of Scientists for Peace: Updates and Achievements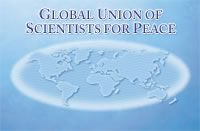 The Institute staff continue to play significant roles in the Global Union of Scientists for Peace. The mission of the Global Union is
to stop the growing threat of nuclear proliferation and nuclear war;
to resist the global rise of other weapons of mass destruction; and
to promote the adoption of safe, scientifically proven technologies for national security and global peace.
For more information about the Global Union, please visit www.GUSP.org.
The founding goals of the Global Union have recently been echoed by U.S. national leaders. In July 2006, a year after the founding of the Global Union, the first 1,200 participants in the Invincible America Assembly came together in Iowa to create indomitable coherence and harmony in U.S. national consciousness. Since that time, the recognition of the need for global nuclear disarmament has suddenly gone mainstream. The Boston Globe noted that "the leaders of the new no-nuke movement are George Shultz, Henry Kissinger, William Perry, and Sam Nunn, four of the most respected figures in American foreign policy circles." And in Prague on April 5, 2009, President Barack Obama confirmed "America's commitment to seek the peace and security of a world without nuclear weapons," adding that the U.S. "will seek to include all nuclear weapons states in this endeavor." This renewed focus on nuclear disarmament is one more indication of the powerful influence of coherence-creating groups on the policy decisions of national leaders. The Global Union will be closely following and contributing to these developments over the coming months.
Dr. Hagelin founded the Global Union of Scientists for Peace in July 2005 to stop the threat of nuclear proliferation and nuclear war through the establishment of large peace-creating groups in every country (see www.GUSP.org). Since then, he has secured commitments from world-renowned scientists in many nations to serve as the national presidents of GUSP and to help implement peace initiatives in their countries. These scientists in many cases hold key positions of governmental authority, including presidents of national academies of science, and are working with Dr. Hagelin to fulfill the goals of GUSP in their nations.
These initiatives have arisen directly from the first international conference of the Global Union of Scientists for Peace held in January 2006 and a follow-up international GUSP press conference held on November 1, 2006, to present research findings on the impact of the Invincible America Assembly in the United States. The inaugural conference brought together GUSP presidents from India, Mexico, El Salvador, Moldova, Montenegro, Ghana, South Africa, and Uganda. Addressing the international conference at the Maurya Sheraton Towers in New Delhi, Dr. Hagelin presented the cutting-edge scientific principles underlying the US Peace Government's proven approach to peace: the discovery of the unified field, its identification with the field of pure consciousness, the profound impact of the Transcendental Meditation technique on brain development, and how large groups of peace-creating experts can create world peace. The GUSP national presidents responded very enthusiastically and are eager to promote these initiatives in their own countries. (Click here to view Dr. Hagelin's presentation at the conference.)
"Scientists today can equip themselves with a powerful, proven approach to peace and national security—and play a decisive role in the leadership of their nations," Dr. Hagelin said. "It is no longer necessary to leave the fate of the world in the hands of politicians with destructive agendas. We can now render such aggressive tendencies utterly impotent by creating an overwhelming physical influence of peace in every nation and around the world—thereby achieving national security and invincibility and creating lasting global peace."