Dr. Hagelin to Serve as President of New University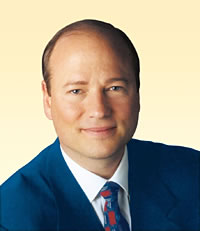 Institute director Dr. John Hagelin has been named founding president of a new university of world peace at the geographic center of the U.S. This flagship institution, named Maharishi Central University, presents a new paradigm in leadership training for a new generation of government leadership and is being designed to accommodate 40,000 students.
For the past several months, Dr. Hagelin has been intensively developing the groundbreaking, state-of-the-art curriculum at Maharishi Central University. This curriculum combines cutting-edge principles of modern science with powerful, proven educational technologies that promote optimal learning, balanced brain development, and higher states of consciousness. The curriculum achieves the total development of the human brain—enlightenment—and delivers total knowledge to every student—in sharp contrast with conventional universities, which promise only all knowledge on a single campus.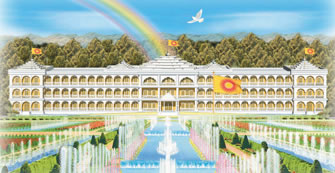 Over the summer, faculty recruitment advertisements for Maharishi Central University were placed in The Chronicle of Higher Education and on four of the top higher-education job websites, describing the plans for the university and its groundbreaking curriculum. The response was overwhelming. More than 1,000 prospective faculty replied to the announcement, sending in CVs, recommendations, and very supportive letters of appreciation about the university's educational vision. We look forward to hiring a world-class faculty for Maharishi Central University as soon as possible.
Established, in part, to counterbalance the global proliferation of military academies and graduate war colleges, Maharishi Central University is dedicated to the prevention of war and promotion of peace on a proven scientific basis — and to creating a new profession in the world: not soldier, but professional peacemaker.
Maharishi Central University is located in the exact geographic center of the United States, a natural seat of power and a unifying point for the whole country, and is situated on several square miles of lush farmland, rich with lakes and rivers. This serene setting houses beautifully designed campus of majestic, stately marble buildings, designed to accommodate 40,000 graduate and undergraduate students—approximately 800 students from each of the 50 states.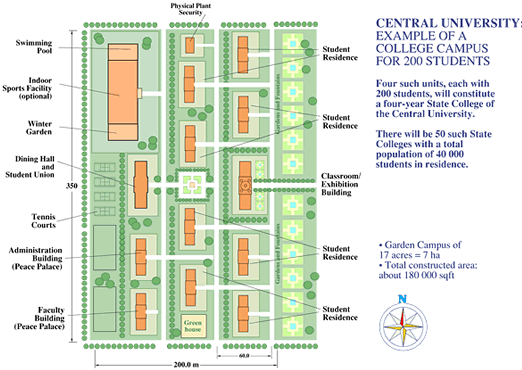 Each state is represented by a State College with four campuses of 200 students each—one campus for each year of the college curriculum—each with its own living, dining, instructional and recreational facilities, and each with its own unique fraternal atmosphere. Together, these 50 State Colleges create an integrated family, each contributing its own spirit to the University.
In addition, the top 50 students from each of the 200 countries of the world will come to Maharishi Central University for state-of-the-art leadership training, and will be housed in stately mansions designed like Embassies on beautiful island campuses, nestled amongst the 50 state campuses.
For a complete description of this new university, including an overview of its groundbreaking curriculum, please visit www.maharishicentraluniversity.org.