THE CONGRESSIONAL PREVENTION COALITION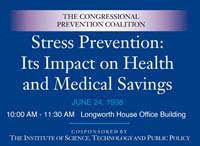 The Institute has inspired and helped organize the first-ever bipartisan, bicameral Congressional Caucus--the "Congressional Prevention Coalition." This widely-attended, ongoing caucus serves as a Congressional forum for examining innovative, prevention-oriented solutions to America's critical social and economic problems. It provides an unprecedented opportunity for high-level consideration of the proven, prevention-oriented programs promoted by the Institute.
The Coalition was formally launched in January 1998 by Senators John Chaffee (R-RI) and Bob Graham (D-Fla) and Representatives James Leach (R-Iowa) and James Moran (D-Va):
"As Members of Congress dedicated to increasing the priority for disease prevention and health promotion in health care policy, we have joined together to organize the Congressional Prevention Coalition."
At the kickoff event of the Coalition, former Surgeon General C. Everett Koop, M.D., Sc.D., addressed members of the press:
It is with great pleasure that I join with my colleagues, from both parties and in both houses of Congress to celebrate and applaud the launch of the Congressional Prevention Coalition. There is no doubt in my mind that raising awareness and working together to prevent diseases that result in premature mortality will reap many valuable dividends in terms of lives saved, suffering averted and health care dollars spared. . .
The Congressional Caucus on "Stress Prevention: Its Impact on Health and Medical Savings", moderated by Dr. John Hagelin, featured presentations by Dr. Norman Anderson, Associate Director of the NIH; Dr. Lee Lipsenthal, Medical Director of Dean Ornish's Preventive Medicine Research Center; and Dr. Robert Schneider, Medical Director of the Center for Health and Aging Studies at Maharishi International University, who has conducted multiple NIH-funded studies on the effectiveness, and cost-effectiveness, of Transcendental Meditation in treating hypertension and heart disease.
Ninety percent of disease is caused or complicated by stress. Cost-effective, scientifically proven solutions exist that can alleviate this enormous strain on our country's human and financial resources.
Some of the leading conditions that cause the greatest health burden in this country -- heart disease, stroke, cancer, and severe depression -- are linked to stress, and to a large extent are preventable. For example, coronary artery disease, America's number one killer, affects 13.5 million Americans each year, costing the nation nearly $200 billion in treatment and lost productivity.
Research has found that cardiac patients who learn to manage stress reduce their risk of having another heart attack or heart problem by 74%, which suggests that stress management is more effective than even exercise in preventing heart disease.
Research by Dr. Schneider published in Hypertension (Journal of the Am. Heart Association) on the effectiveness of different stress reduction methods in reducing hypertension of elderly inner city African Americans showed that of the three methods studied--progressive muscle relaxation, Transcendental Meditation, and usual care--the TM technique was the most effective in reducing high blood pressure without the harmful side-effects and high costs of some high blood pressure drugs.
Meta-analyses performed by other researchers comparing the effectiveness of several stress-reduction methodologies similarly showed that the TM technique was the most effective and cost effective procedure for decreasing stress.
The Department of Health and Human Services in Healthy People 2000 has established a national objective to "Reduce to less than 35% the proportion of people aged 18 and older who experienced adverse health effects from stress within the past year."
Dr. Hagelin emphasized that tax-funded programs like Medicare should take advantage of the enormous cost savings available through verifiable cost-effective preventive approaches.
Simple language such as the following, inserted in the Medicare statutes would allow reimbursement for effective techniques that would bring immediate improvements in health and cost savings.
"Other preventive programs (including but not limited to stress management, nutrition, exercise, smoking cessation, and health education classed) are covered if they are shown to be efficacious and cost-effective."
The congressional Caucus on Achieving Parity in Health Care for Minority Populations: Prevention of Hypertension and Heart Disease, on June 3, 1999, featured Dr. David Satcher, Surgeon General of the United States and Assistant Secretary for Health; Dr. Keith Norris, Professor and Acting Chair, Department of Internal Medicine, Charles Drew University of Medicine and Science; Robert Schneider, M.D., Director of the Center for National Medicine and Prevention; Dean, College of Maharishi Vedic Medicine; and John Hagelin, Ph.D., Director of the Institute of Science, Technology and Public Policy, with opening remarks by the Honorable James Leach, Member of Congress (Iowa).
Heart disease is America's No. 1 killer. African American men and women endure disproportionately high rates of cardiovascular disease (CVD). Deaths from heart disease are 2/3 higher for African American women and 1/3 higher for African men than for whites. Excessive rates of hypertension, psychosocial and socio-environmental stress contribute to high CVD morbidity and mortality in this population.
According to research, heart disease and its primary risk factor, hypertension, can be prevented- and even reversed- through scientifically proven methods of stress reduction and lifestyle modification among African Americans.
For more information, contact the Institute of Science, Technology and Public Policy at ISTPP@miu.edu
Phone: 641-472-1200